February 14, 2013
If there is a spectrum of Valentines, with store-bought Star Wars/Dora cards at one end and perfect Pinterest-worthy works of art at the other, I'd say our family's fall right in the middle.
I do give the kids the option of buying them every year, but they really enjoy making them (yay!). And the timing works out perfectly, because there are always multiple snow days or sick days in the weeks leading up that let us get them done. So let the mess begin…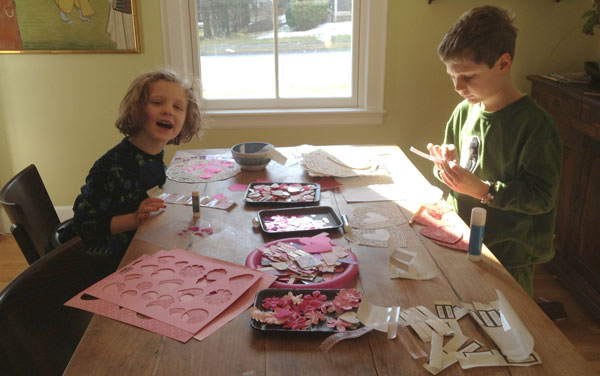 Rule number 1: Mommy keeps her hands off and mouth shut. Aside from cutting hearts on request and separating doilies so we don't blow a whole stack on one card, I stay out of it, even if the Valentines end up looking like this:
I confess, at first I was a bit traumatized that my children were not making traditional, beautiful cards, but now I've come to appreciate them, especially as Charlie gets older and his style has become less avant garde:
Rule number 2: No writing required. As you can see, I make tags on the computer that the kids can stick on, allowing them to save their energy to make masterpieces like these:
Valentine's pencils are a dime a dozen, but how many cotton balls do you usually get? Our Valentines are like fuzzy, deranged snowflakes… no two are alike.
So Happy Valentine's Day from the Bruels. May your day be one-of-a-kind!