July 3, 2012
Do you ever have an idea for a project, totally obsess about it, but when you finally do it the results are sort of… meh? That's usually how it goes for me. But I just finished a project that turned out SO amazingly better than I hoped ("Epic!" in the words of my sister), that I feel like I have to tell the whole world — or at least the five of you who still read my almost-defunct blog.
This is what I was obsessing about: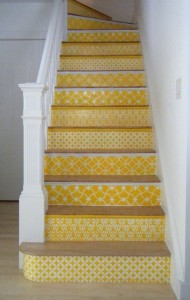 These steps have been making the rounds on Pinterest — all of us drooling, but nobody executing as far as I can tell. When I clicked through on these (though the link is now broken), it turned out they were done with stencils. I don't know about you but — despite having a fine arts degree and completing a painting thesis — I know I am NOT qualified to do anything as exacting as stencils. Plus, although I loved the mix of patterns, this still felt a little subdued for me. So on to plan B: wallpaper.
The prospect of hanging wallpaper terrified me, but I figured it WAS the best way to get a fabulous pattern, and if I did something less geometric it would still look OK even if it was crooked. But wallpaper is sort of expensive, and I wasn't finding any patterns I liked, let alone a series of three or four that would look great together. So I gave up on the dream for a while (much to my husband's relief!).
Then I had a thought… wall decals! (Disclaimer: this is NOT a step-by-step tutorial, and you DO need a little design know-how to do this, but it may still inspire you).  I went to Dali Decals, and sure enough, they can make custom decals from whatever art you provide. Next I went to iStock Photo, my go-to royalty free stock artwork site, and found these gorgeous repeating patterns for about $20 (total!):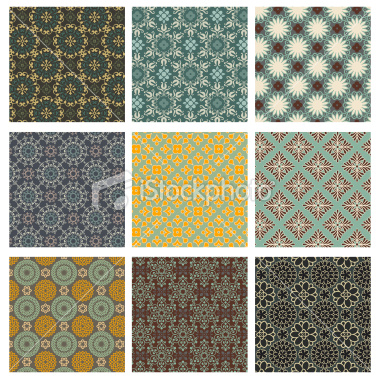 I figured out the size of each riser, how many I needed in each pattern, and the cheapest way to print it on Dali (one piece using maximum width of 48″ and unlimited length cost me about $150). I set up the file in Adobe Illustrator, repeating the patterns to get enough length, and tweaked the colors a bit to go with my decor.
The decal arrived in one sheet, and I measured and cut the pieces I needed. Peel, stick, and about an hour later… voila!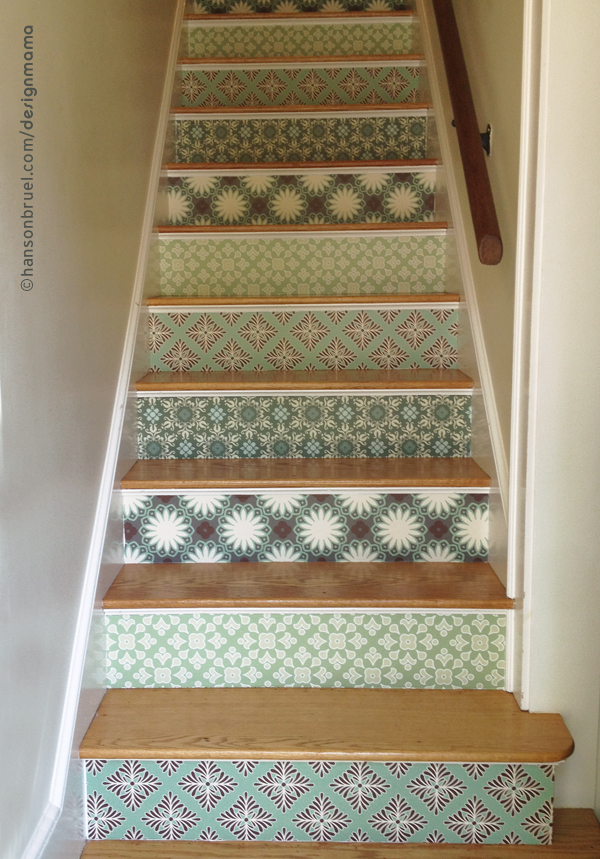 I wish I had taken a "before" picture of my sad little staircase so you could see the TLC-style dramatic transformation. Who would have thought my tiny entryway would end up being one of my favorite spots in the house?