March 7, 2012
We FINALLY got a new car. Between our 2000 Volvo (handed down from my grandmother) and 2004 Subaru Forester, there was a LOT of squeaking, banging, and rattling going on around here. It was getting a bit embarrassing to pull out of the driveway.
I am not a fan of large cars, but for carpooling and play dates my beloved Suby is just too small. I decided I needed a vehicle where I could strap in three kids in car seats without sweating and cursing for 10 minutes… or even — dare I dream? — four kids.
It turns out, there is exactly ONE car out there that will seat more than five people (even small ones) without being the size of a small truck: The Mazda 5.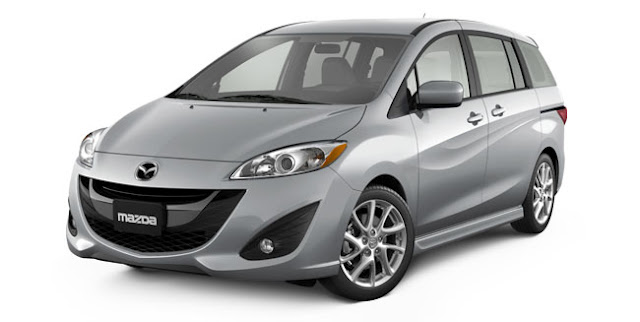 My first reaction when I saw it was "Good lord, that is ugly!" But now I am so enamored of all the features on this little guy that I have actually started to think it is attractive. It seats six, gets over 20 miles per gallon, and has built-in Bluetooth. Yes, I am still grabbing a metal bar and scooching around to adjust my seat (always with Van Halen's "Panama" running through my head), and I also have to turn my head and actually LOOK out the rear window when I back up. But compared to the old Suby it feels downright luxurious.
I do believe that form should follow function, and this baby is all about function. But isn't it cute, too? Please tell me, because I honestly have no idea.