August 10, 2010
The other day I went online to find Charlie a backpack for his first day of kindergarten (!!!). I went on to Lands' End, one of my favorite sources for kid gear, and began my search for the turquoise blue backpack Charlie had requested. I was a bit surprised to find backpacks sorted into "boys" and "girls" sections, but I dutifully clicked on "boys" and found an assortment of colors: red, navy blue, royal blue, green, and orange. Nothing quite as bright and sassy as my little guy was expecting, though.
So, never one to shy away from cross-dressing my kids a bit, I clicked through to the girl's page and did indeed find the perfect turquoise. But before I could zoom in and try to determine if there were any ruffles, flowers, or bows that made this a specifically GIRL backpack — and would therefore get Charlie's ass kicked (or at least laughed at) at school — I got completely distracted. Through past experience I had expected the girls' offerings to be the same as the boys but with additional pink and purple options thrown in. But no, it appears Lands' End has determined that girls are ONLY allowed to wear pink, purple, or turquoise: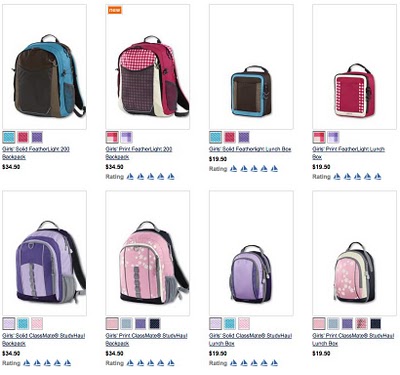 Since when did all of the other colors in the world become "boy" colors? Say what you will about fashion in the seventies, but my mother was able to buy a full wardrobe of girls' clothing in brown, beige, orange, red, navy… you know, BOY colors. And somehow everyone could still tell that my sister and I were girls (well, except when we had those pixie haircuts… but that is a story for another time).
Yes, all little girls seem to love pink and purple, but maybe that's because those colors are shoved down their throats as "girl" colors by adults. I mean, why in the world do we need separate "girl" versions of classic toys like Legos, TinkerToys, and Lincoln Logs?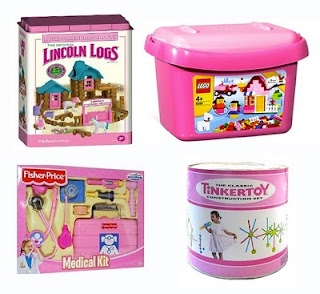 It's not the kids who are buying this junk — it's us, the adults.  So I say it's time to fight back. No more pink! Who's with me?